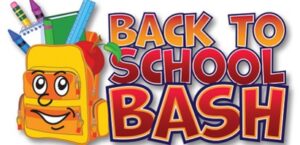 9 am to 5 pm.

Please check back for the 2022 Back to School Bash Details
What and When is the Back to School Bash?
We are a group of people, local businesses and area churches who come together and provide area children with a day of fun, food and a back pack with school supplies. The bash is held the LAST SATURDAY IN JULY (Rain or Shine)

Where is the Back to School Bash located?
We will be announcing the location of the 2022 Bash at a later date.
Does my child(ren) need to be present to get a backpack?
Yes. In order for your child to get a backpack they need to be present. However, if for reasons beyond your control we will take your name, phone number, grade of the child, and whether they are are a boy or girl then after the Bash, provided we have left over back packs we will contact you to come by the church to get a backpack.
Do I need to provide proof of income/resources?
No we do not require you to provide proof of income or resources.
What if I have to work, can my child come attend with another relative or friend?
Yes, your child can come with friends or family.