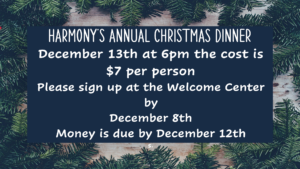 Our Children's Ministries & Nursery are back up and glad to be in full swing again. Our Nursery will be for any child ages 0-4yr and Children's Church will be for any child ages 5 years to 2nd grade. Please pick up a registration card at the Welcome Center and complete it before sending your children to Nursery or Children's Church.
Also on Wednesday our Children's Church will begin at 6:30pm (NOT NURSERY) and the adult bible study will begin at 7:00pm.
Welcome to Harmony, a church of real people with real issues who serve a real big God. We are so thankful for you whether you join us in the church building or just watch online. We want you to know we welcome everyone, no matter if you are new to church or have been a Christian for many years. Here you'll find people who love God and love others. We hope to give you a fresh, enjoyable connection to God and find a community of people who genuinely seek His will above all things.