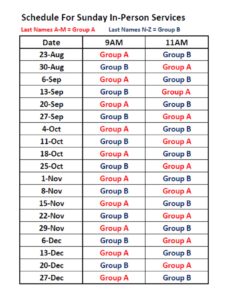 IN REGARDS TO SERVICES DUE TO THE RISE IN COVID-19 CASES:
Harmony Church Family,
Unfortunately, the cases of Covid 19 have been on the rise across our county recently. Someone within our church family may have been exposed at their place of employment at the end of this past week. We are waiting on official results from testing
Pastor Brandon will be conducting the Wednesday Bible Study from Facebook live at 7pm. We will continue to update you as things progress. Many churches in our area are now encountering the same issues so let's keep them all in our prayers.
If you feel you have been exposed to the virus, please consider being tested at the Carter County Health Department. The address is 403 West G Street in Elizabethton.
If you develop symptoms related to COVID-19 or test positive please notify the Church Office as soon as possible. For symptoms go to https://www.cdc.gov/…/2019-n…/downloads/COVID19-symptoms.pdf.
We want to be here to support and pray for you during these uncertain times and will continue to monitor the situation closely.
We love each of you dearly, and ask God to keep us all safe during this time.
Welcome to Harmony, a church of real people with real issues who serve a real big God. We are so thankful for you whether you join us in the church building or just watch online. We want you to know we welcome everyone, no matter if you are new to church or have been a Christian for many years. Here you'll find people who love God and love others. We hope to give you a fresh, enjoyable connection to God and find a community of people who genuinely seek His will above all things.