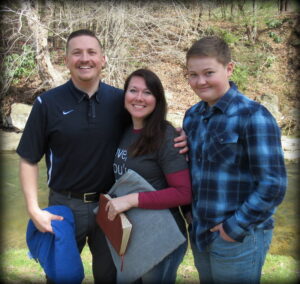 Pastor Brandon Young was saved as a child on January 8, 1989 at Mt. Calvary Free Will Baptist Church in Avery County, NC. He was only 9 years old at the time, and from that moment he began to pray daily about the calling to minister. He knew that God would one day place him as a pastor of a church, and he asked God to prepare him for that day. He looked up to all of his former pastors as mentors and role models, and enjoyed spending time with them.
On September 30, 1998, at the age of 18, Brandon announced his calling to preach God's word at his home church, Crab Orchard Free Will Baptist in Plumtree, NC. He was a Freshman at Lees-McRae College in Banner Elk, NC during this time earning a bachelors degree in Elementary Education. He loved children and wanted to pursue his dream of teaching, as well as, ministering to others. He left his home church, and began to evangelize all around Northeast Tennessee and Western North Carolina. He sought out minister licenses from the Toe River Free Will Baptist Association and was licensed in February 1999. He evangelized for two years before returning back to his home church to help out his aging Pastor C.A. Howell. In the year 2000, Pastor C.A. Howell resigned from the church due to his health conditions, and the church asked Brandon to take the church as pastor, although he was still a college student during this time. The Toe River Association ordained Brandon to preach the gospel in May of 2000.
During his pastorate at Crab Orchard, the church grew in Spirit of the Lord and in number. God was truly blessing his ministry. Brandon graduated from Lees-McRae College in May of 2002 as an elementary educator, and he was hired to teach 5th grade at Deyton Elementary School in his home town of Spruce Pine, NC. He loved his new job as a teacher, and he could not wait to see all that God had in store for his life. In August of 2003, while conducting a revival at Cane Creek Free Will Baptist Church in Bakersville, NC, he met the love of his life, Dara Catherine Jones. During the invitation on that Monday evening, the Lord spoke with Brandon while Dara was singing and told him that she would be his wife.
After dating for 10 months, Brandon and Dara got married on June 11th, 2004. Their son, Grayson Edward Young, was born on February 16th, 2006. Brandon and Dara knew the Lord had smiled upon them, and they continued the ministry at Crab Orchard as a family. In September 2007 after much prayer, Brandon went back to college to earn a Master's degree in counseling from Western Carolina University in Cullowhee, NC. He would be working full time as a teacher, going to school part-time, and continuing to pastor Crab Orchard. This degree in Counseling was a 60 hour degree that would take three and a half years to complete going to school part-time, but he knew that was the course the Lord had set out before him.
In December 2007 after a 7 year pastorate, Brandon was told by the Lord that it was time to resign from Crab Orchard. This was a very difficult task due to this being his home church, the love he had for all the church members, and being the only church he had ever pastored, but he knew that God had a plan and was in control. Brandon was contacted by Harmony Free Will Baptist Church in Hampton, TN in January of 2008 about their need for a new pastor. Brandon had held several revivals at Harmony during his pastorate at Crab Orchard, so he had got to the know many of the members at Harmony. After filling in for several services, the members of Harmony asked Brandon to pastor, and he knew that this was God's will for his life. Brandon and his family drove about an hour to attend the church services, and he continued his Master classes two days a week. It was a very busy time, but God always made a way.
In November of 2009, God made a way for Brandon and his family to sell their home in Spruce Pine and move to Hampton. They were thrilled to be close to the church, but they continued to drive back to North Carolina each day to work. They prayed the Lord would open employment opportunities closer to home. In December, 2010 Brandon graduated from Western Carolina with a Masters Degree in Counseling. Harmony continued to grow and Brandon could see the Lord's hand at work. Brandon moved from a 5th grade teacher to a school counselor with Mitchell County Schools in North Carolina. He loved assisting students with problems they were having at school and at home. A school counselor position opened in Carter County Schools, and Brandon applied. In August of 2011, Brandon was hired as a school counselor at Cloudland Elementary in Roan Mountain, TN. God had answered his prayer and made him a way to work in Tennessee.
Grayson began kindergarten at Cloudland the same year. Brandon and Dara now prayed that God would open a door for her to work in Tennessee because she continued driving to North Carolina. In 2012, this prayer was answered and Dara began working for East Tennessee State University for the college of Public Health. They could not be happier as family to live, work, and minister in Tennessee. They cannot wait to see this story continued, and they know that God is just getting started on all the plans he has for them as a family and for Harmony!